Floor Electrical Outlet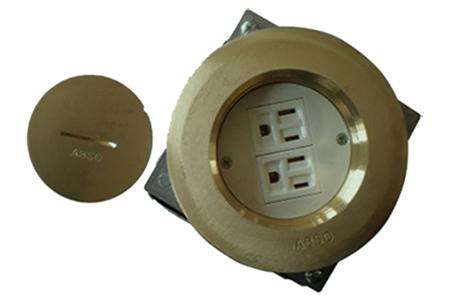 The floor electrical outlet consists of a floor box, brass cover, and screws, making it suitable for installation sockets on the floor in residential areas.
The brass cover has an O-rubber ring inside, which features an outstanding sealing performance, preventing moisture from entering the equipment, thus, protecting the socket.
ANAKO's floor electrical outlet is usually used to install single universal receptacles, duplex power outlets without grounding, and telephone jacks.
Please contact us for customization information about the floor electrical outlet size and other specifications.
Custom Strut Channel for Electrical Industry
In addition to the products listed on this page, we also provide custom services for electrical conduits and fittings. Customers can choose different materials, such as steel, aluminum, zing, cold die cast, or hot die cast processes for their products. You can also choose different production standards and metal surface treatment methods according to your needs. If you want to buy stock products, or have custom conduit fitting needs, just let us know and we will quickly provide you with high-quality products.
Strut Channel and Electrical Support